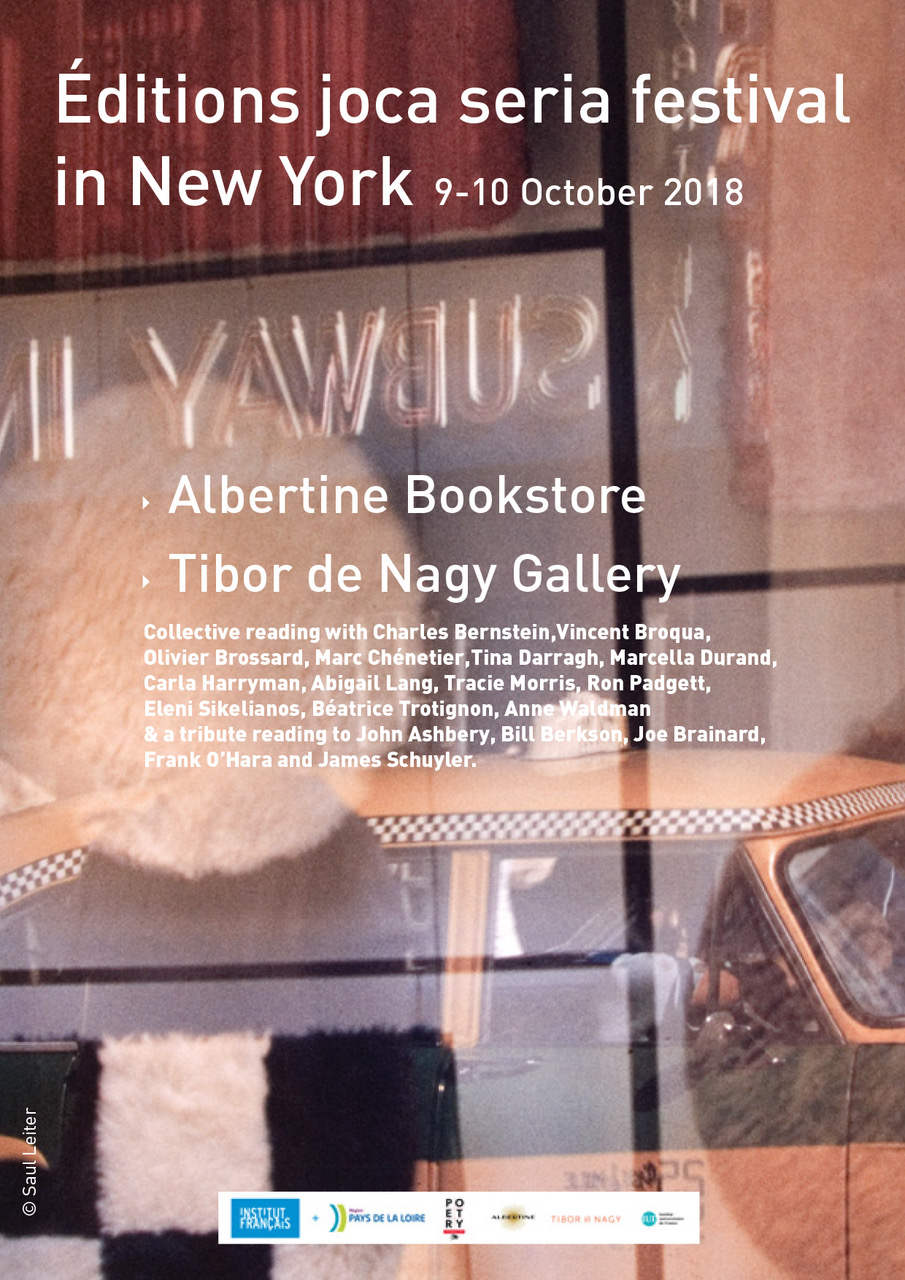 New York-Nantes and back! French publishing house 
joca seria
is celebrating its 
American poetry series
(25 volumes) in New York with two events in October 2018:
* a collective homage to the "New York School" poets
John Ashbery
, 
Bill Berkson
, 
Joe Brainard
, 
Frank O'Hara
, and 
James Schuyler
published by joca seria (and, originally, by the Tibor de Nagy gallery), at the 
Tibor de Nagy gallery
, on 
Wednesday 10 October (6-8 pm)
, with joca seria authors 
Charles Bernstein
, 
Anne Waldman
, and 
Ron Padgett
…
… with their translators 
Olivier Brossard, Vincent Broqua, Marc Chénetier, Abigail Lang,
and 
BĂ©atrice Trotignon
, and their French publishers 
Bernard
and 
Brigitte Martin
The October 10 collective reading will also be the occasion to celebrate the publication of 
Lovers of My Orchards: Writers and Artists on Frank O'Hara
(Presses Universitaires de Montpellier, 2018) with 
Christopher Berg, Lee Ann Brown, Todd Colby, Thomas Devaney, Vincent Katz, Eileen Myles, Charles North, Geoffrey O'Brien, Jerome Sala, Cedar Sigo, Tony Towle, Anne Waldman, Marjorie Welish
, and 
John Yau
.
The Tibor de Nagy Gallery is currently presenting Oh, What Fun! an exhibition of John Ashbery's collages made from 2015 until his death in September 2017. This is Ashbery's fourth solo exhibition at the gallery and his first at the gallery's Rivington Street location. See information below
The joca seria readings and events in New York are organized with the support of the Cultural Services of the French Embassy, the Institut Français, the Institut Universitaire de France, the Poetry Foundation, the Region Pays de la Loire, the Tibor de Nagy gallery.
9 OCT. 2018, 6:30-8:30pm: ALBERTINE BOOKSTORE